How to Make Your Simple Snacks Look Presentable
Summer makes one lose his/her appetite due to the heat and humidity. More often than not, you'd rather have ice cream, halo-halo or ice cold drinks to tide you over than the conventional packed snacks that you used to eat.
You can still have these packed snacks though and with a little adjustment, you can make your snacks look better and more appetizing.
Presenting: Fita Crackers with tuna spread and Grape/Cheese Spears for an afternoon snack.
Note: Tap on the photo to see in a bigger size.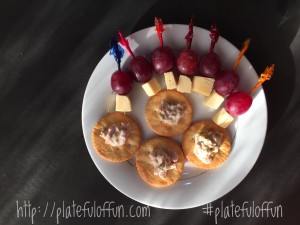 What you need:
1. Round crackers like Fita or those rectangular ones like Skyflakes. For the rectangular crackers, cut these along the dotted line to make it dainty.
2. Put a little tuna spread on each cracker piece.
Tuna spread: 1/2 cup mayo, 2T pickle relish and 1 can of tuna solid in oil or water. Or you can make your own egg and/cheese spread.
3. Cut cheese block in a box in small squares. Using a toothpick (better to use reusable toothpicks that you can buy from Japan thrift stores at Php88/pack of 8-10) to spear the cheese cube and a grape. You can also use hotdogs if you like. But I highly recommend the grapes because these are healthier.
4. Serve with your favorite ice cold drinks.