­Paksiw na Bangus
Paksiw na Bangus or Milkfish stewed in vinegar is one of my fondly remembered food that my mom cooks. She still cooks this till this day. This is a very simple dish to cook that is full of flavor. The vinegar in the dish acts as preservative, thus making it last till the next meal, if there are leftovers. This dish is perfect for summer, when the heat and the humidity spoils food easily.
Because it takes a lot of time to remove the milkfish bones when eating, I always use our favorite bangus back fillet which can be bought from the supermarket and which I have been using for our meals for the last six (or even more) years. You can use the whole milkfish or other local fish available.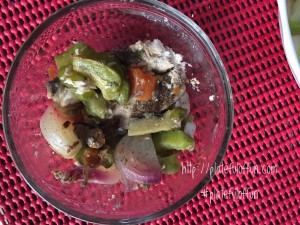 Ingredients:
* 1 pack bangus back fillet which has 6-7 pieces about six inches long, cut in half
* About half a cup of vinegar*
* Thumb size ginger, cut in slices
* 1 onion, sliced
* Half a head of a small local garlic, crushed
* Sliced ampalaya or bitter gourd
* Salt and ground pepper to taste.
Procedure:
1. Slice the ampalaya, onion and ginger.
2. Crush the garlic.
3. Put the vinegar in the pan (or pot) and then put the sliced fish.
4. Put the vegetables** on top of the fish. Put some on the bottom if so desired.
5. Season with a little salt and ground pepper.
6. Marinate for around 30 minutes or so. Or you can skip this part.
7. Cook in low heat for 10-15minutes.
8. Serve warm.
Notes:
*I do not really measure the vinegar that I use, this is just an approximate.
**You can add sliced eggplants and chili fingers.