Make-Ahead Meal: Tuna Patties
Another recipe here for Tuna Nuggets.
Please tap the photos to see bigger photo resolutions.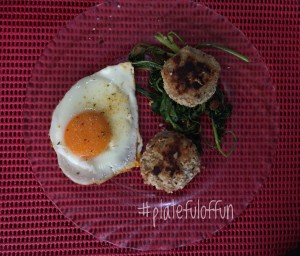 We have been gifted with a very big can of tuna in oil. After opening,  the tuna in oil were placed in clean glass jars to be refrigerated. I made some tuna patties for this Sunday's brunch, with extra patties for tomorrow's packed lunch.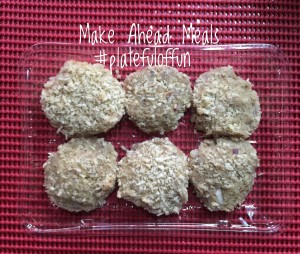 Ingredients:
•1 medium-sized steamed (or boiled) potato, mashed.
•1 can tuna in oil
•1 medium onion, diced
•ground black pepper
•garlic powder
•a pinch of salt
•1 egg
•panko or bread crumbs
Procedure:
1. Mix everything except the bread crumbs. Season with salt, black ground pepper and garlic powder according to taste.
2. Make small patties.
3. Add bread crumbs on the patties.
4. Fry with very little oil, a few minutes each on both sides.
5. Serve warm with your favorite condiments and extra food. Ours were served with stir-fried kangkong and eggs over easy.
*NOTE : you can also add steamed or boiled carrots, potatoes instead of sweet potato. You can also opt to add steamed greens in the patties to ensure that these will be eaten.