Rainy days are back and so having warm soup to ward off that bit of cold is a must. Instead of cooking those prepacked noodles with salty seasoning, why not cook ramen instead?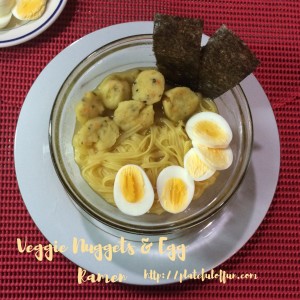 For this easy to prep ramen, I used the following:
4 cups of water to boil
1 small pack of veggie nuggets, each nugget cut in half
2 bunches of pho noodles
yellow curry paste (you can opt to use other soup pastes like laksa, red or green curry)
4 eggs
roasted pork belly
Procedure:
Boil the water.
While the water is boiling, put the paste (depending on how much your taste buds can take).
When the curry paste is incorporated with the water, put the veggie nuggets.
When the veggie nuggets are cooked or has doubled in size, put the pho noodles and boil for a few minutes.
Remove the pan from heat.
For the eggs:
In a separate pan, boil or steam the eggs.
I steamed for 10 minutes and removed the eggs and put these in a container with cold water.
When the eggs are cool enough to hold, roll on flat surface to be able to remove the eggshell easily.
Cut the eggs using egg topper. You can also use a knife if you do not have these.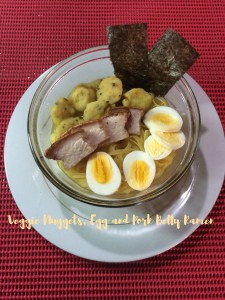 Arrange the ramen in a bowl. Top with sliced egg and roasted pork belly (optional). Add strips of roasted seaweed sheets for added taste.
You can add other food items to the ramen.