Slowcooker Lasagna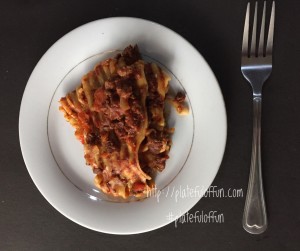 I have tried slowcooked lasagna before using Make Ahead Ground Beef  but was not able to write a post.
This time, I made the same dish using the Quorn Non-Meat grounds leftover from the Sautéed Ampalaya recipe.
Slowcooker Lasagna with Non-meat Grounds: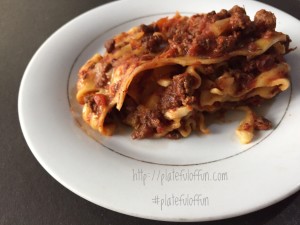 Ingredients:
1. 3-4 garlic cloves, chopped finely
2. 1/2 big onion, chopped finely
3. 3 big tomatoes, diced
4. 1 small red bell pepper, chopped finely
5. 1 1/2cups non-meat grounds
6. Italian seasoning, salt and pepper.
7. 2 packs of tomato sauce (You can use spaghetti sauce which I had none when I cooked this)
8. Lasagna sheets.
Procedure:
1. Sauté the first four ingredients in little oil.
2. Add the non-meat grounds and cook for a few minutes.
3. Add the spices. You can also add a little oyster sauce if you like.
4. Add the tomato sauce and simmer for a few minutes. You can also use other canned tomatoes or use spaghetti sauce for more flavors.
5. Layer the lasagna sheets and the meat in sauce alternately in the slow cooker.
6. Cook for 4-5 hours in low heat.
Observation: this batch was a bit dry but soft, unlike the batch with the ground meat. The ground meat will sweat while cooking, making the lasagna moist and soft. We liked it nonetheless. Maybe I will add more sauce next time.