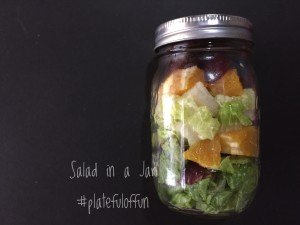 Salad in a Jar
I did Fruits in a Jar in this post (no blog entry though). This time, I tried Salad in a Jar.
Inside this Salad in a Jar are sliced lettuce leaves, grapes cut in half and one sliced orange. You can add other vegetables or fruits in the jar like tomatoes, cucumber, sliced mangoes and onions (if you like) or whatever it is that you want to add. You can also add nuts before eating the salad to keep the crunchiness.
Layer the fresh vegetables and fruits to make it look nicer.
Refrigerate up to 2-3 days. Just make sure that the vegetables and fruits are dry before putting these inside the jar.
Add your favorite salad dressing before eating. My favorite is always a mixture of a little orange juice and a little EVOO.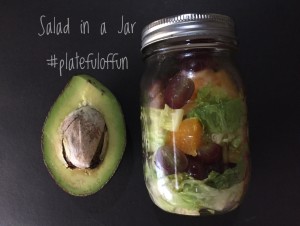 For this salad, I added avocado cubes and ate the salad from a bowl.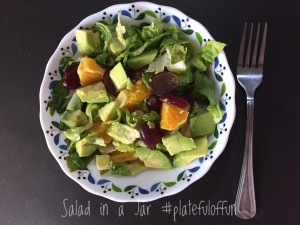 This can be a to go to fresh salad in a jar. And like I wrote in my Fruits in a Jar post make time to peel and cut to make sure you are eating good and nutritious food.