I have a weekend love affair with my slowcooker. During weekends when I am swamped with Saturday teaching load, I prepare meals to be cooked in the slowcooker which the family partakes during Saturday, Sunday and sometimes, leftovers are packed lunch for school on Monday mornings. I just add vegetables in the food and it feels like a new dish already. Almost.
Last night, I slowcooked beef shank and potatoes.
For the ingredients:
3/4 kilo of beef shank (ask your butcher to cut according to your desired sizes)
3 big potatoes, cubed
2 medium carrots, cubed
1 medium size tomato sauce
1/4 cup oyster sauce mixed with water (you can also use Soy Sauce)
Freshly ground black pepper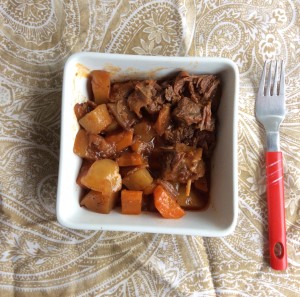 Procedure:
1. Cook the beef cubes in water with a little salt and pepper. Remove from the pot.
2. Marinate for an hour or two in the slow cooker pot : mix together the tomato sauce, soy/oyster sauce and put freshly ground black pepper on it.
3. I cooked the meat on HIGH setting for 3 hours.
4. Add the potatoes and carrots and continue to cook on LOW for 4-5 hours.
Note: you can also add red bell peppers or other vegetables you like. The carrots and potatoes can also be steamed first before adding at the last hour. Since this was being cooked while I slept, I didn't want to make extra effort to do just that. You can also add boiled eggs as extenders.
Note: you have to boil the beef cubes before you put in the slowcooker to avoid getting a lot of oil in the pot while cooking. Boiling the meat also means removing the scum.